Wild life of Karnataka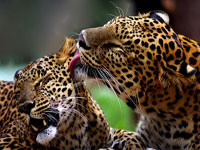 For those who want to experience the wild life, Karnataka won't disappoint in any way. The rich vegetation, flora fauna, sanctuaries make people from hobbiest to professionals an interesting yet enchanting survey in these places. These sanctuaries are mainly spread at south and western region of Karnataka comprising the districts of Mysore, Mandya, Madikeri, Chamarajnagar and Bangalore at South and Shimoga, North Karnataka, Chikmagalore at West. Total 22 percent of Karnataka state is covered with forest. Highest population of Tigers is also found here.
In spite of a comparatively hostile terrain, Rajasthan surprisingly is the abode of a number of mammals and birds. Its vast size and latitudinal variations above the sea level of 1,700m provides it with varied vegetation. It provides semi green forests of Mount Abu to dry grasslands of the desert, and from the dry deciduous thorn forest of Aravali to wetlands of Bharatpur.

The sanctuaries attract herds of species from all over to their temporary habitat that provides comfortable subsistence. During the season, the whole place echoes with enchanting sounds and fascinating visuals against the sprawling meadows of flora. Rajasthan is the haven of the tigers and many endangered species.

The leopard also called the panther here is found in forests and in open degraded forest areas with rocky outcrops adjoining towns and villages. The sneaky predator finds easy prey of unsuspecting village dogs, asses, calves and goats. There five lesser cats besides the two big cats. Besides a host of fauna there is a handsome variety of avian life too. Wetlands at Koeladeo Ghana Bird Sanctuary at Bharatpur are a bird watcher's delight.